The absolute novelty of automated production, enable a wide range of expansion stages and thus offer the greatest possible future security and competitiveness.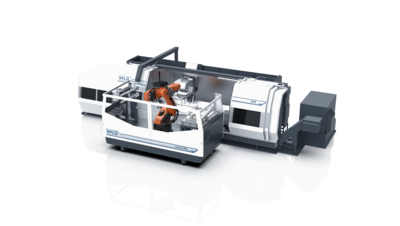 Mobile robots move around completely autonomously with no need for cables or human input for them to work. Another key advantage of mobile robots is that they avoid obstacles, meaning that they can be used in halls where the set-up is constantly changing and where machines and people are moving around. Sensors help to ensure that mobile robots move safely and efficiently between locations and work safely and efficiently with people, forklifts and other material handling equipment.
The ever-greater variety of models has meant that transfer lines have tended to be replaced by flexible line chains or by individual cells with a variable material flow. Using intelligent software in combination with the relevant automation solutions not only enables workpieces to be loaded and unloaded but also means that machining centres can be set up fully automatically through the automatic replacement of tools and clamping devices. FRAI strives to be an innovative automation partner and has therefore developed a mobile robot system to respond to this trend. This concept has scope for various expansion stages, making it as
future-proof as possible.

Tailored to your production requirements

High mobility thanks to kinematics

Switch easily from one workpiece or process to another one