Automation only leads to a significant increase in productivity, if there are enough raw parts and storage possibilities for machined parts.
The requirements for workpiece storages differ according to the form and quality of raw parts, batch size, cycle time and the customer's manufacturing philosophy. Storage and delivery of workpieces are crucial for cells to work autonomously.
FRAI's team will find the perfect solutions for your request as they have their own standardised workpiece storages as well as special constructions or purchased storages.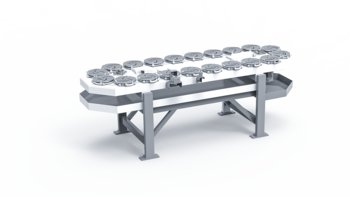 Recirculating pallet conveyor
Within this kind of storage systems, all workpiece carriers are rigidly connected by chain. It is ensured by means of a drive motor that the pallets are forwarded with a constant distance to each other and each pallet is positioned accurately at the gripping station. The system is very flexible and can re-equipped quickly thanks to the workpiece carriers. It can be easily tailored to the customer's needs since there are numerous variants regarding size, number and form of the pallets. This workpiece storage is suitable for chuck parts as well as short shaft parts and of particular interest for the production of small batch sizes.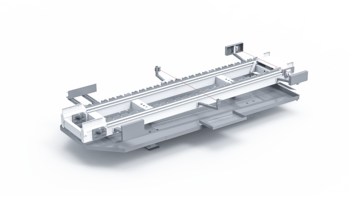 Shaft magazine
Shaft magazines are composed of supporting elements, such as prisms or rolls, which are mounted on two or more chain strands. Depending on the range of parts, the chain strands can be set at a constant or adjustable distance to each other. Shaft magazines are commonly equipped with a separate storage for raw parts and finished parts. However, when using this type of magazine without a separate storage, the machined parts are being put down at a free place again.
Conveyor belts
In most conveyor belt systems, the components lie directly at the belt. For this reason, conveyor belts are commonly used for of workpieces which do not have to be supported during transport. Usually, there is no need for interchangeable parts . Adjustable lateral guiding or positioning elements provide for the necessary flexibility during accumulation operation. Continuous belt solutions can be combined with upstream or downstream steps in the production process. However, feed belts for raw parts and discharge belts for machined parts are often used as stand-alone solutions.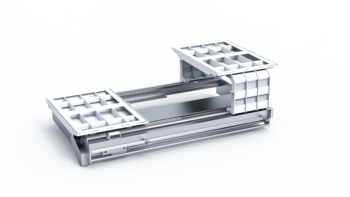 Level storage
This kind of storage system is equipped with two workpiece carriers on separate levels. The palettes are transferred into the work area of the automation system and back to the manual loading area. For this reason, one of the palettes is always available for changing workpieces or re-equipping for the next batch. The flexible grid dimension of the workpieces on the palette and the two levels allow for a very high packing density, especially since the machined part can be put back on the very place from which the raw part has been picked up before. The storage system can be quickly re-equipped with just a few interchangeable parts and is suitable for delivering raw parts in the correct alignment as well as shaft components or chuck parts.
Palette storrage
Workpiece carriers, such as different versions of palettes, can be positioned directly inside the work area when using robotic cells, cantilever gantries or area gantries. They are brought into the automation cell one by one, stacked or by means of special transport trolleys. It depends on the design of the supply area whether the palettes can be changed without interruption or the handling device has to stop while changing the workpiece carrier. The storage capacity varies according to the configuration of palette storage.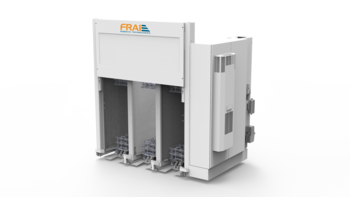 Stacking cell
Stacking cells feature stacks of workpiece carriers (e.g. wire baskets, plastic boxes or metal palettes) which are commonly brought into the cell on transport dollies. A basic cell consists of three staging areas, two of which are needed for processing the workpieces. The workpiece carriers are moved by means of an lifting fork. It picks up the workpiece carriers in a precisely manner, provides them for handling and puts them down again afterwards. The third place serves as a buffer. Its stack can be changed at any time. There are of course several different versions of stacking cells to meet the customer's requirements. Intermediate storage options or slide guards, for example, allow for changing stacks without interruption. Stacking cells are often used for series production with multiple subsequent processing steps, since the complete stack of workpiece carriers can be forwarded at once.
Purchased storage
FRAI has developed reliable and efficient storage systems which already cover a big part of possible applications. Furthermore, their partners supply them with integrable solutions regarding magazines for accumulating pallet conveyor systems, vertical storages, high-bay storages and many more.